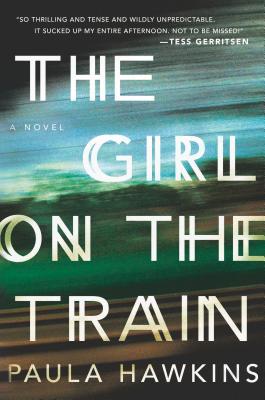 My first book of the year for 2015 was going to be The Girl on the Train. I had pre-ordered it in the fall of 2014 in great anticipation because it was getting such terrific early notices. This was before all the (highly inaccurate) Gone Girl comparisons. Taken alone, the book's description sounded interesting. Taken alone, the book is actually pretty good, something I had to wait until now to find out.
By the beginning of January 2015, it seemed that everyone was reading/had read this book, and most of the reviews were raves. By the end of January, the backlash had already started, and most of the reviews were duds. I decided to wait for the air to (mostly) clear. I'm glad I did.
I'll admit that I originally gave The Girl on the Train an enthusiastic four stars right after I finished reading it. I was pleasantly surprised by the novel, but I think I also felt a bit defensive, because someone else in my feed on the same day gave it two stars and called it a dud…yet again, in comparison to Gone Girl. Let's go ahead and set the record straight: The Girl on the Train isn't anything like Gone Girl. Every book with an unreliable narrator (and there are plenty of them—for example, Michelle Huneven's Blame, about a woman who blacks out and wakes up in jail only to learn that she's killed two people in an accident of which she has no memory…and then years later learns the truth) isn't Gone Girl, doesn't have to be Gone Girl. Every female writing a thriller doesn't have to try to be Gillian Flynn. That they might want to be Gillian Flynn is another issue for another time, but honestly, I don't think Paula Hawkins wants to be. Her book is her own.
Rachel Watson is 34. She has a serious drinking problem. She's lost everything in her life that mattered to her, including her husband Tom. Riding the train into London every morning and evening, she catches a glimpse of a couple she calls Jason and Jess. She idealizes their relationship, until one day she sees Jess with another man. And then soon after, Jess—whose real name, Rachel learns, is Megan Hipwell—goes missing, and Rachel suddenly believes she needs to find out what happened to Megan.
To complicate matters, Jess and Jason—or Megan and Scott—live four doors down from where Rachel's ex-husband Tom lives with his new wife, Anna, and their two-year-old daughter. Rachel still loves Tom, and many of her feelings about Megan and Scott are tied up in her continued obsession over Tom. All of this comes together in interesting ways…at least when the story belongs to Rachel. The book shifts points of view, from Rachel in the present, to Megan in the year leading up to her disappearance, and then back to Anna in the present. If the novel has a weakness, it isn't so much the shifting POV as the fact that Megan is so uncompelling as a character. As a character, to the reader, she's dull as hell. What keeps things interesting is that we see the real Megan juxtaposed with the person Rachel imagines her to be, and the same is true of Anna (who also has interesting views on Rachel). Rachel, on the other hand, even though she's a sad sack, she's an interesting sad sack. Her bad decisions were frustrating, but I liked her enough to keep rooting for her. I'll admit, I may have liked her so much because I know Emily Blunt is playing her in the film, and Emily Blunt could be charming just reading the dollar menu at Taco Bell. She's who I heard and pictured as Rachel, so it will be interesting to see how she brings her to life on screen, and if she stays likable for me (Rachel, that is).
The mystery overall was only okay, but I do think Hawkins did a good job of offering up a lot of possibilities for how things might have gone that keep the reader guessing. The mystery piece relies completely on Rachel's faulty memories of the past, and sometimes she has nothing more to go on than gut feeling. She's unreliable and she doesn't even trust herself. I wasn't sure how things would go until the last quarter of the book, but then I'm also not someone who likes to guess. In this case the point was to stick with Rachel and let things unfold as her memories returned, and so I suspended judgement and followed her. This is a pet peeve of mine, people who need to prove they are smarter than the books they read. I always suspend disbelief for as long as possible if the writing is good enough. Otherwise, what's the point of reading? To criticize?
If anything, The Girl on the Train reminded me of a really, really dark Bridget Jones' Diary, if Bridget's drinking had got out of control and she'd lost Mark Darcy to another woman and had a mystery to solve. After a few days, my view has tempered somewhat, and I have knocked my rating down from four stars to three. All in all, I found The Girl on the Train to be a well-paced, solidly entertaining novel with a compelling main character. I'm looking forward to see what they do with the movie.