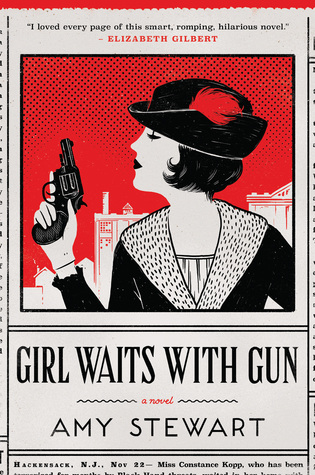 Charming is a word I would like to see restored. These days when people say "charming" they often mean quaint, or old, or precious. For me, the word evokes the idea of having grace and spunk in equal measure, and knowing when it's appropriate to use more of one and less of the other, or—to use a gun metaphor—when to fire from both barrels.
Amy Stewart's debut novel Girl Waits With Gun is a charming book based on a true story that Stewart uncovered when doing research for her non-fiction book, The Drunken Botanist. The Kopp sisters—Constance, Norma, and Fleurette—live alone on a farm outside Paterson, New Jersey. The story begins in July 1914, when their horse and buggy are struck by a motor car driven by one Henry Kaufman, a wealthy hooligan who owns one of the silk factories in town. In the street, Constance asks nicely for—and then demands—compensation for the accident. Kaufman and his thug friends scoff at her and then threaten her. All of this sets off a chain of events that upset the quiet lives of the Kopp sisters, but Constance in particular refuses to back down and fights for justice for herself and her sisters. Her case falls on deaf ears at the local prosecutor's office, but the sheriff of a nearby town becomes her ally, offering the Kopp sisters protection and even teaching them to shoot revolvers.
A less skilled author could have made caricatures of the Kopp sisters, but Stewart does a terrific job of making them each interesting and distinct. At one point, Constance, who narrates the story, describes them as three women with nothing in common and little to say to each other. That they love each other and are fiercely loyal to one another is without question, but Stewart cleverly uses their singular responses to events and their interactions with one another to show how times are changing (but also lagging)—especially for women. Their late mother, an Austrian who never cared for America or bothered to pursue citizenship, had a habit of sharing news headlines about women who were disgraced, injured, or killed in some way, all to convince her daughters that the world was a terrifying place and they were better off at home:
I can't look at our childhood samplers without remembering the disgraceful fate of Laura Smith, age seventeen, who was lured away from her home by the grocer and ruined by him, or that of thirteen-year-old Lena Luefschuetz, found dead for reasons having to do with her "undesirable companions."
This upbringing affected the sisters in vastly different ways. Norma, 31, dislikes any and all intrusions from the outside world, preferring to spend time with the homing pigeons she raises on the farm (she trains the pigeons by fastening news headlines—for example, "Girl Scalded in Kitchen," on a day when Fleurette is cooking—to their legs). Fleurette, 16, is such an ingenue that it almost seems she believes the stories she reads in the paper are actually fictions just awaiting her embellishment. And Constance, the oldest at 35, is at once restless and pragmatic. With secrets of her own, she is aware of both the lack of opportunities for and the very real threats to women that the world holds. However, she longs for something more than what she has, even daring to picture a life for her independent self apart from her sisters.
Aside from the threat presented by Henry Kaufman and company, a bit of a mystery occurs that draws Constance further into danger and helps develop her relationship to Sheriff Heath in an interesting way. The mystery also brings Constance's past into play, which helps to explain why she reacts the way she does at the accident scene in the beginning of the story.
Somehow this novel manages to be both lighthearted and serious at the same time. Stewart manages to create comic situations about women in very real peril–and not as a result of Henry Kaufman so much as from being a woman in a society still clinging to Victorian ideas. The sisters' quirks offer some comic relief. Fleurette is forever twirling and selecting special outfits to suit the occasion, even when that occasion is being the well-dressed target of a kidnapper, and Norma is fully devoted to her pigeons. Constance even has the occasion to manhandle Henry Kaufman to comic effect. However, even in moments of humor, we're always reminded that the sisters face serious trouble. They are running out of money and have no foreseeable means of making income, which means that they may lose their farm–and if they lose their farm, what will happen to them? Fleurette is young enough still to find a husband, but she knows very little of the world as she was schooled at home and has been kept away even from people her own age. Norma and Constance are both essentially spinsters who are not trained in any skill, and Norma especially would rather not spend time with other people if she can avoid it. As the oldest, Constance feels the most responsible, but Stewart makes it quite clear that the options for her are limited on almost every front except the most unexpected.
This book was absolutely so delightful I did not want it to end. Halfway through the novel I was already sorry about saying goodbye to Constance, Norma, and Fleurette, so I was very happy to learn that Stewart is writing a sequel to Girl Waits With Gun called Lady Cop Makes Trouble, to be released in September 2016. Keeping my fingers crossed for a series!