I think everyone is probably well aware of this by now, but Julianne from Outlandish Lit is hosting a month-long Weirdathon. After seeing all the chatter in my Twitter feed (and seeing all the fun books people are choosing), I decided to hop on the bandwagon and get my weird on. o what, you may ask, constitutes a "weird" book? Let's see what Julianne has to say:
What counts as weird? Anything that's weird to you. Maybe that's aliens. But for others maybe it's bizarro fiction written in a created dialect starring a talking fruit. Click here to see my lists of weird books for inspiration and TBR padding!
Admittedly, when I first heard everyone talking about this a few weeks ago, my initial thought was simply that I couldn't join because I don't read weird books. But Julianne is giving people a lot of room to decide what's weird for them. I highly recommend taking a look at her lists, I found a couple of books that were on my shelf and my TBR and that got my creative juices flowing. I also realized that I had read far more "weird" books than I realized. In fact, I was able to tweet out a few suggestions based on my own reading the last few years:
#weirdathon suggestions for anyone looking: WIDE SARGASSO SEA, THE MANUAL OF DETECTION, NORWEGIAN WOOD, THE COLLECTOR, AWAIT YOUR REPLY

— Priscilla Walter (@eveningreader) March 2, 2016
//platform.twitter.com/widgets.js
More #weirdathon suggestions: THE PEOPLE WHO EAT DARKNESS (real life weirdness), BIG MACHINE, THE WORD EXCHANGE

— Priscilla Walter (@eveningreader) March 2, 2016
//platform.twitter.com/widgets.js
The challenge for me was going through my current books and trying to figure out what was "weird" enough for the challenge. Here's what I selected:
Head Full of Ghosts, Paul Tremblay. I put this on my TBR when I first heard about it last year, and I just happened to snag it for $1.99 on Kindle (deal still happening as of March 3!). And guess what? It was on Julianne's list of recommendations, so there you go! "The lives of the Barretts, a normal suburban New England family, are torn apart when fourteen-year-old Marjorie begins to display signs of acute schizophrenia. To her parents' despair, the doctors are unable to stop Marjorie's descent into madness. As their stable home devolves into a house of horrors, they reluctantly turn to a local Catholic priest for help…Fifteen years later, a bestselling writer interviews Marjorie's younger sister, Merry. As she recalls those long ago events that took place when she was just eight years old, long-buried secrets and painful memories that clash with what was broadcast on television begin to surface–and a mind-bending tale of psychological horror is unleashed, raising vexing questions about memory and reality, science and religion, and the very nature of evil."
Traveler's Rest, Keith Lee Morris. You all know how much I loved The Dart League King, and I also loved Morris's surreal short story collection, Call It What You Want. Traveler's Rest is his latest effort, and it fits the weird bill to a T: a family stranded in a blizzard decides to spend the night at the Traveler's Rest hotel, where "Once inside the hotel, the family is separated. As Julia and Tonio drift through the maze of the hotel's spectral interiors, struggling to make sense of the building's alluring powers, Dewey ventures outward to a secret-filled diner across the street. Meanwhile, a desperate Robbie quickly succumbs to his old vices, drifting ever further from the ones who love him most. With each passing hour, dreams and memories blur, tearing a hole in the fabric of our perceived reality and leaving the Addisons in a ceaseless search for one another. At each turn a mysterious force prevents them from reuniting, until at last Julia is faced with an impossible choice. Can this mother save her family from the fate of becoming Souvenirs-those citizens trapped forever in magnetic Good Night-or, worse, from disappearing entirely?" Creepy, right? [Updated to add: Morris also put together an awesome 70s playlist for the novel on Largehearted Boy.]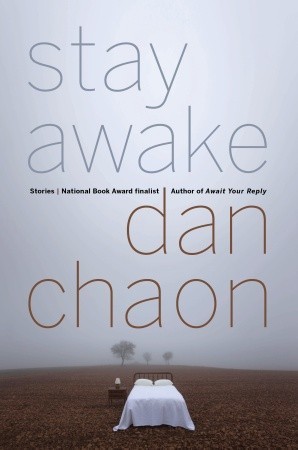 Stay Awake, Dan Chaon. Dan Chaon is one of those writers who simply doesn't get the attention he deserves. I loved both of his novels, You Remind Me of Me and Await Your Reply, and I've had this book of his short stories sitting on my shelf for years. I've been wanting to get back to reading more short stories, and this collection is said to be "haunting, suspenseful stories, lost, fragile, searching characters wander between ordinary life and a psychological shadowland. They have experienced intense love or loss, grief or loneliness, displacement or disconnection—and find themselves in unexpected, dire, and sometimes unfathomable situations." Fit the bill? Yep.
Undermajordomo Minor, Patrick deWitt. I honestly think The Sisters Brothers is one of the best books I've read in the last decade, so I snatched up a hardcover of deWitt's latest novel only a few weeks after it was published. The last novel was a Western, but this one is more of a strange fairy tale: "Lucy Minor is the resident odd duck in the hamlet of Bury. He is a compulsive liar, a sickly weakling in a town famous for begetting brutish giants. Then Lucy accepts employment assisting the majordomo of the remote, foreboding Castle Von Aux. While tending to his new post as undermajordomo, he soon discovers the place harbours many dark secrets, not least of which is the whereabouts of the castle's master, Baron Von Aux. Thus begins a tale of polite theft, bitter heartbreak, domestic mystery, and cold-blooded murder. Undermajordomo Minor is an ink-black comedy of manners, an adventure, and a mystery, and a searing portrayal of rural Alpine bad behaviour, but above all it is a love story. And Lucy must be careful, for love is a violent thing." A little more lighthearted weirdness is never a bad thing.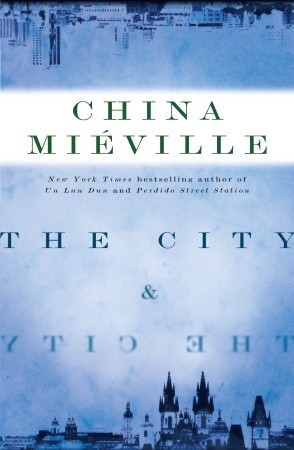 The City & the City, China Miéville. Okay, I've had a copy of this book on my Kindle since 2011, so I think it's high time I read it. This is a backup pick for me. I don't read that quickly and will be lucky to get through four books, let alone five, but I've heard so many bloggers praise Miéville that I thought this would be a terrific choice. I may be continuing #weirdathon on my own in April just to mark it off my list and see what all the fuss is about. "Inspector Tyador Borlú of the Extreme Crime Squad finds deadly conspiracies beneath a seemingly routine murder. From the decaying Beszel, he joins detective Qussim Dhatt in rich vibrant Ul Qoma, and both are enmeshed in a sordid underworld. Rabid nationalists are intent on destroying their neighboring city, and unificationists dream of dissolving the two into one."
Are any of these on your #weirdathon lists? I can't wait to read everyone's updates this month—not that my (virtually) creaking TBR shelf needs any more books added to it!