Top Ten Tuesday (hosted by The Broke and The Bookish) this week asks us to list the top ten things that will make us instantly want to read a book. This is a tough one—I think next week's topic about what makes us NOT want to pick up a book is easier—but I'll give it a shot.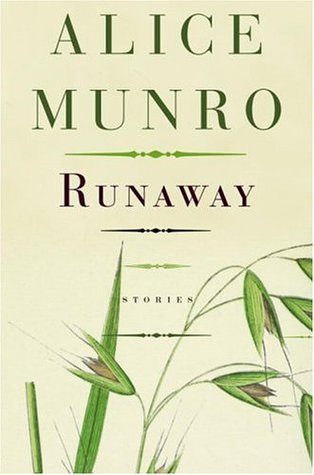 It's by a favorite author. Okay, that's such a no-brainer, right? Obviously, we all look forward to books from favorite authors, but maybe we get to some a bit faster than others. As much as I love Lorrie Moore—and even though I had preordered a copy—it took me almost a year to read her most recent story collection. And I love Mary Gaitskill but haven't read The Mare yet. But a new Alice Munro, Tana French, Donna Tartt, or Marisha Pessl? I want that book in my hands on pub day, if not before.
It's a campus novel. I'm a huge sucker for any book set at a boarding school or a university. I blame The Official Preppy Handbook, which was published when I was in seventh grade. It's the source of all my fantasies about wearing blue blazers and knee socks and carrying a beat-up leather messenger bag and driving an old Volvo station wagon and attending classes in grey-stone buildings covered with ivy. What? Oh, right, like you don't have a dream. The Secret History, Prep, The Headmaster's Wife, Skippy Dies
It's set west of the Mississippi. Hello, Larry McMurtry. Hello, Kent Haruf. Hello, Wallace Stegner. Wait…those were all men. Hello, Louise Erdrich. Hello, Molly Gloss. Hello, Willa Cather.
It involves any sort of seafaring. I'm fascinated by the Dutch East India Trading Company, the age of exploration, the migration of people….as long as it's happening on a ship. For someone who's terrified of the ocean, I have enough books about sailing the wide open seas on my TBR list that you'd never guess. Landfalls, Ship Fever, Servants of the Map, Master and Commander
It involves cowboys/pioneers/people settling the Western US. Technically this could be considered a subset of number three, I guess, but it's a particular one that always draws me. The Jump-Off Creek, The Son, Lonesome Dove, The News of the West
It features a WASPy New York family. You can keep your navel-gazing Brooklyn hipsters who all want to write books about being writers. I'm way more interested in the Upper East Side, particularly if the book is set before, say, 1970. The Rules of Civility, The Swans of Fifth Avenue, The Catcher in the Rye, The Nest
It's compared favorably (by someone I trust) to a book/writer I love. No, not looking at you, Gone Girl. You're over your limit. But if a book is compared to, say, The Secret History, The Goldfinch, Commonwealth, Empire Falls, The Likeness…Somebody stop me before I list all my favorite books. You get the picture. Although sometimes these comparisons make me leary (still not looking at you, Gone Girl). I'm sorry, but if I saw a book that said, "For readers who love Alice Munro," I might be afraid I was going to get a cheap imitation, because honestly, who can compare?
It's set anywhere from coastal New England up to Newfoundland. I'm talking rocky coast, sea spray, the Atlantic, whales, fishermen, creaky old cottages with worn shingles, lighthouses—the whole shebang. So anything from Seating Arrangements to Olive Kitteridge to Sweetland to The Shipping News. The gamut of the northern US/Canadian East Coast, if you will.
It involves a clever twist. I've gotten a bit more wary about this one. (Okay, Gone Girl, I'm looking at you now.) Still, I do like a good twist. I really thought Gone Girl was masterfully done. And Sarah Waters's Fingersmith (who's twisting who?). John Fowles's The Magus (twisty involving teacher at secluded Greek boarding school). E. Lockhart's We Were Liars (twisty/New England combo).
So, where do we line up? Any recommendations? Where do we differ? (I'd love to hear from you if you have a real comment! If you are just here to spam your own link, move on.)